Featured for the Holidays
Recipes and Menus for Christmas
New Year's Recipes and Menus
Additional Holiday Recipes
---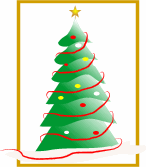 Christmas celebrations are based on traditions, including family foods and the holiday feast. Many of us spend a great portion of our time cooking, baking and, the best part, eating our finest recipes, some of which have been passed down through many generations, others that will provide future traditions. I have posted three festive menus for Christmas, complete with simple and delicious recipes, many of which can be made ahead. All of the menus, which are appropriate for any special occasion, include preparation notes and every recipe contains links to alternate choices. Enjoy. Merry Christmas!
---
New Year's Eve and Day celebrations provide occasions to share and indulge in culinary delights, whether in a casual, party or intimate atmosphere. I have posted three very different menus with easy or make ahead recipes so you can enjoy the festivities. The first is a simple and elegant late night supper. The second is a party buffet with assorted finger foods, perfect for ushering in the New Year. As for New Year's Day, tradition calls for eating certain foods which are thought to bring good luck and fortune for the upcoming year. My favorite menu is based on my Pennsylvania Dutch heritage, to which I added a couple traditional southern dishes. Good luck or not, it is all delicious. Each menu is complete with notes and preparation tips.
New Year's Eve Late Night Supper Menu
---
| | |
| --- | --- |
| Additional Holiday Recipes | |
---
*** SHARE YOUR FAVORITE FAMILY RECIPES AT TERI'S KITCHEN ***
New recipes are always welcomed. For information and to browse all the shared recipes, visit the Shared Family Recipes page.
---
No matter where I take my guests, it seems they like my kitchen best.
Pennsylvania Dutch Saying