Featured in March
Easter Menu and Recipes
St Patrick's Day Recipes (archive)
Monthly Features
---
Sunday, April 5, 2015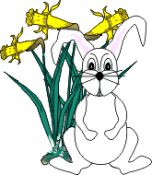 Easter is a very special holiday for many of us that is celebrated with family gatherings and good food. The menu usually includes ham or lamb, fresh produce and other foods available in early spring, depending on the culture and the region. My Pennsylvania Dutch family's traditional Easter dinner menu always featured baked ham, potatoes and spring vegetables or, when Easter was too early for the harvest, vegetables that were home-canned during the previous season. A family favorite springtime dish, my grandmother's rhubarb pie, was the dessert served most often. In addition to the menu, I posted recipes for lamb, vegetables, eggs, desserts and other sweets to offer alternate choices so that you can design a menu based on personal tastes and your family's Easter traditions. There is also a link to recipes using spring produce, which includes dishes not listed on this page, as well as links to recipes for using leftover ham or lamb. I hope you enjoy.
---
---
*** SHARE YOUR FAVORITE FAMILY RECIPES AT TERI'S KITCHEN ***
New recipes are always welcomed. For information and to browse all the shared recipes, visit the Shared Family Recipes page.
---
No matter where I take my guests, it seems they like my kitchen best.
Pennsylvania Dutch Saying