Featured in April
Easter Recipes and Menus
Recipes for Spring Produce
Monthly Features
---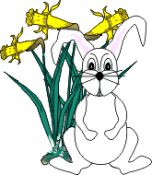 Sunday, April 20, 2014
Easter is a special holiday for many of us that is celebrated with family gatherings and good food. I have posted two delicious menus for the occasion. The first is a traditional Pennsylvania Dutch Easter Menu with baked ham and other dishes my grandmother and mother usually served. The second features a butterflied leg of lamb stuffed with herbs. You will also find recipes for eggs, baked goods and candy, including some shared by contributors, as well as links to ideas for using leftover ham or lamb. I hope you will enjoy.
---
Every season is special in its own way, and each has its own offerings of fresh produce. I have chosen popular early spring greens, vegetables, fruits and berries that are readily available in most regions and listed some of my favorite recipes for utilizing the produce in main dish, side dish and dessert presentations. Many of the recipes are quick, easy and healthy because seasonal produce is always best simply adorned. Make these recipes all year long, but savor them while the produce is at its best in your area.
---
---
*** SHARE YOUR FAVORITE FAMILY RECIPES AT TERI'S KITCHEN ***
New recipes are always welcomed. For information and to browse all the shared recipes, visit the Shared Family Recipes page.
---
No matter where I take my guests, it seems they like my kitchen best.
Pennsylvania Dutch Saying